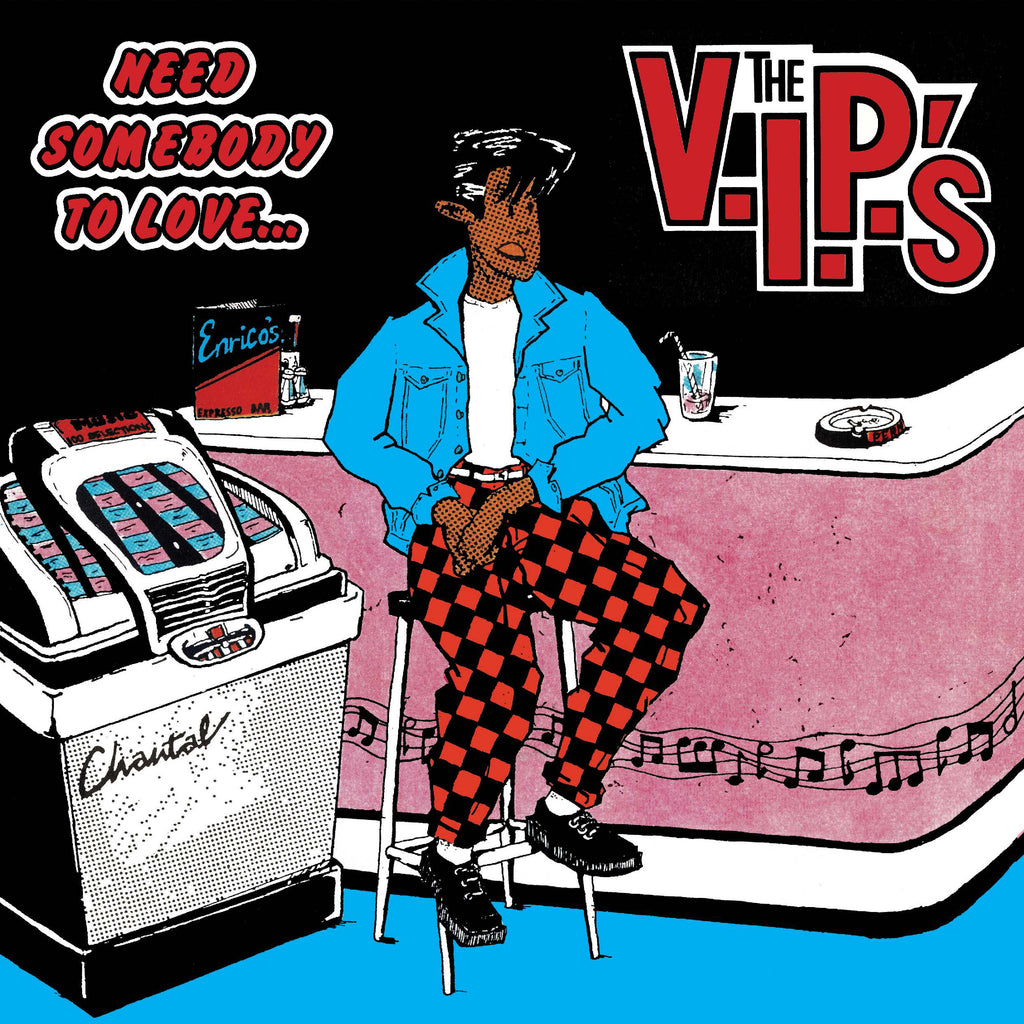 V.I.P.'s, The - Need Somebody To Love LP
---
The V.I.P.'s
NEED SOMEBODY LOVE
17 Track compilation of all of their studio recordings, remastered and pressed on Electric Blue Vinyl. Presented in gatefold sleeve with never seen before photographs ,a printed lyric inner sleeve and poster.
The VIP's were formed in 1978 while at Warwick University. Within weeks they were gigging at clubs in the Midlands, often on the same bill as THE SPECIALS in Coventry. Soon they found a manager, Clive Solomon, who with Timmy Mallet (now a TV and Radio presenter) and both students at the university, financed the group's first single the EP 'Music For Funsters. In the summer of 1978 they built up a loyal following in London. The single was picked up by John Peel, who played it constantly on his BBC radio show through the year. The 3 track EP, featuring 'I'm Perfect', 'I Believe' and 'Boys of the City' was released on Clive Solomon's own 'Bust' label.
In 1979 the VIP's could be found playing all over the country, frequently on the same bill as Squire, stablemates on Clive Solomon's label.
In early 1980 they went into Olympic Studios in Chiswick  to record some tracks with ex-THE ANIMALS bass player and SLADE/Jimi Hendrix manager Chas Chandler. The track 'I Thought You Were My Friend' was recorded at these sessions  A few weeks later a major record deal was agreed with Gem Records/RCA and 'Causing Complications' came out in March. To coincide with the release the VIP's went on tour supporting SECRET AFFAIR.
After the tour the single 'The Quarter Moon' was released, another track produced by Mike Leander. It received extensive airplay around the UK and beyond, and was also picked as BBC Radio 1's  Record of The Week by DJ Mike Reid on his Morning Show, as well as being Radio Luxembourg's 'Power Play' for two weeks. The constant touring, recording and radio play had earned them a spot on Top of The Pops but they were suddenly told -on the afternoon that they were due to appear - that an industrial dispute at the BBC had resulted in the show being cancelled. Disappointed, they continued to record and tour, this time with MADNESS, THE BEAT and DEXYS MIDNIGHT RUNNERS amongst others. This time Bob Seargent (of The BEAT and HAIRCUT 100 fame) was recruited to give 'Need Somebody To Love' that sparkle and edge to capture The VIP's live sound on vinyl. Although perhaps the most representative of the band's sound, Top of The Pops again eluded them.
By the end of 1980 the VIP's were selling in Spain, Germany, Italy and France through the RCA label but they seemed to be losing heart with the business. Illness -Jed had been touring with a collapsed lung - and tensions saw the band play their last concert at Leicester University. A fourth and final GEM single, 'Things Aren't What They Used To Be' (a song taken from their earlier Mike Leander recording sessions) proved to be their last. With several songs still to be recorded, it was a frustrating time for all.
Paul Shurey and Guy Morley has already made alternative  plans for THE  NEW VIP's and recruited Simon Smith from THE MERTON PARKAS to play drums while Paul returned to his native keyboards. With Tony Conway  on guitar and Andy Godfrey on bass they became MOOD SIX.
Jed Dmochowski issued a press statement as to why the split had occurred . "I felt like a vegetable in The Garden Of Eden" he claimed, but later admitted that his health had suffered through constant gigging.
 After taking a few months off he returned with a solo album on Dan Treacy's 'WHAAM' label. Titled 'Stallions Of My Heart', it featured Gary MacManus, bass player with THE SPECIALS, known for his baseline on the single 'Free Nelson Mandela' and Simon Smith. The Guardian described it as 'The best debut of the decade'.
Jed now records and performs with his band 'TRANQUILIZERS' , their 'To Forget An Actor' album published by Cherry Red in 2012. A new album is currently being recorded. He is also Director at The Marc Bolan School of Music and Film in Sierra Leone where he works with the Motown singer and songwriter Gloria Jones and Rolan Bolan.
Paul Shurey played a central part in the birth and proliferation of the Rave movement in the 80's,  90's and 2,000's, initiating a great a great many DANCE RAVES all around the world. Very sadly he died in 2017. He was also a gifted artist/cartoonist, and it's his picture which graces the album's sleeve. He is a brother very greatly missed.
Guy Morley works in film editing and Andrew Price is involved in developing community projects in and around his native Bristol.
"We became lifelong friends and shared a great and very exciting  rock and roll dream."
Tracklisting
SIDE 1.
NEED SOMEBODY TO LOVE
QUARTER MOON
ONE MORE CHANCE
THINGS AREN'T WHAT THEY USED TO BE
LOVE IS A GOLDEN WORD
CAUSING COMPLICATIONS
JUST CAN'T LET YOU GO
HIPPY HIPPY SHAKE
I'M PERFECT
SIDE 2.
I THOUGHT YOU WERE MY FRIEND
STUTTGART SPECIAL
RUN RUN BELINDA
WHO KNOWS
JANINE
I BELIEVE
BOY OF THE CITY
CAN'T BELIEVE IT'S TRUE

---
Share this Product
---
More from this collection