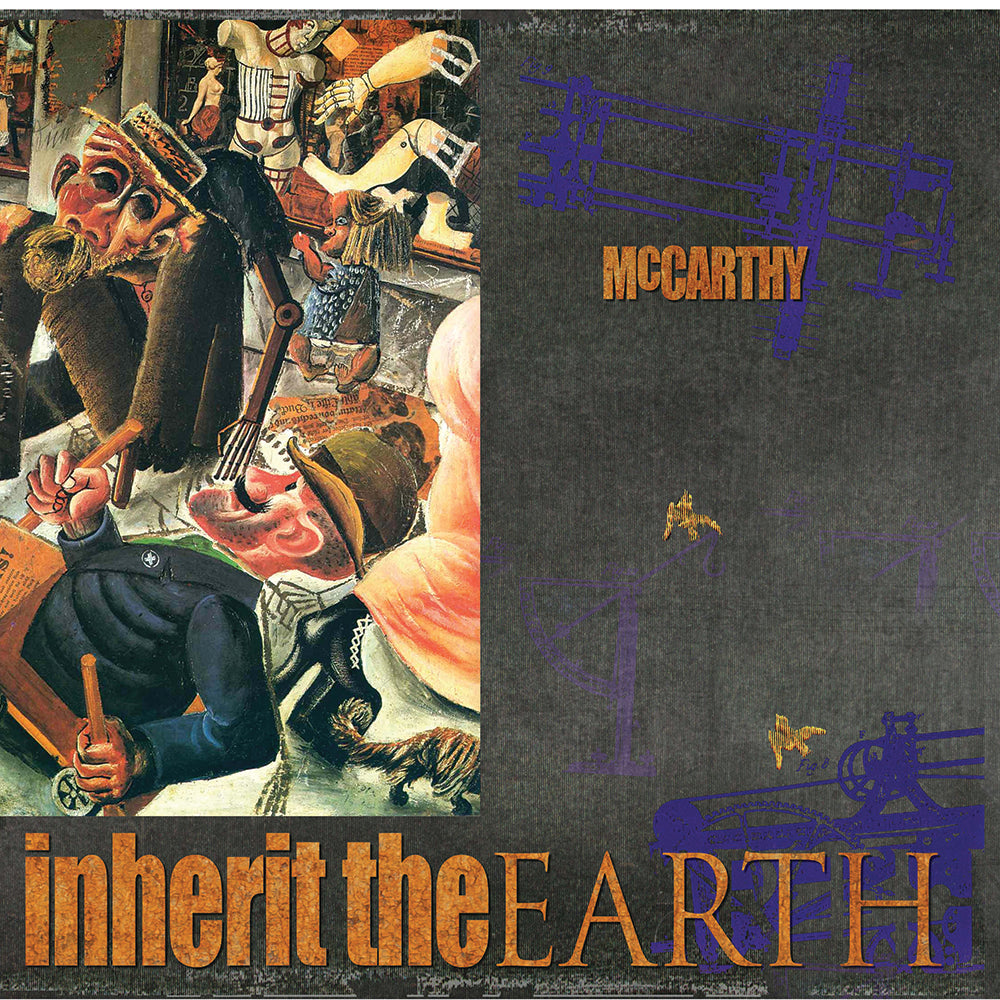 McCARTHY - THE ENRAGED WILL INHERIT THE EARTH 2LP+7"
---
McCARTHY
THE ENRAGED WILL INHERIT THE EARTH LP+7"


REPRESSED
This limited edition set contains the original LP plus a 10 track bonus LP and a bonus 7" with 2 previously unreleased tracks.
Pressed on colour vinyl with a reworked sleeve by original designer Andy Royston

The Enraged Will Inherit the Earth is a musical molotov cocktail that's a mixture of power chords and virile, virtuous lyrics. I've always liked McCarthy because of their keen sense of political awareness and proactive mentality of "less talk, more action." They go as far as to advocating violence to start a coup - which is a lot more effective than hippies sitting on their asses singing songs in a peace protest. Yeah, I've stolen, dumpster doven, train hopped - I know real anarchy from the fake. Their polemic (how often can you use that word when referring to a band?) is strong and convincing, as any should be. This is a record to provoke action through intelligent liberal ideals and had it more exposure it could have sparked a much needed revolution. Probably not, but we can think wishfully, can't we?

As a triad, all three of their albums in their repertoire stand strong, but I think they hit their zenith with the middle child, The Enraged Will Inherit the Earth. The songwriting is tightly forged and their knack for producing raw pop is at its finest here. The Enraged Will Inherit of the Earth is a powerful weapon that didn't get enough of a user base to make its intended impact. If the question was ever proposed, "can art be a weapon?" I think this album answers with a bold and resounding "yes."
Bigger Splashes
http://biggersplashes.blogspot.com/2011/02/mccarthy-enraged-will-inherit-earth.html


Tracklisting
LP1
A1           Boy Meets Girl So What                                                                    

A2           Governing Takes Brains                                                                               

A3           An Address To The Better Off                                                                     

A4           Hands Off Or Die                                                                                 

A5           What Our Boys Are Fighting For                                                                

B1           Keep An Open Mind Or Else                                                                        

B2           We Are All Born Creeps                                                                               

B3           The Home Secretary Briefs The Forces Of Law And Order             

B4           I'm Not A Patriot But                                                                                     

B5           Throw Him Out He's Breaking My Heart                                               

LP2
A1           Should The Bible Be Banned
A2           St Francis Among The Mortals
A3           The Myth Of The North-South Divide
A4           We Are All Bourgeois Now
A5           Two Criminal Points Of View
B1           This Nelson Rockefeller
B2           The New Left Review #1
B3           The Lion Will Lie Down With The Lamb
B4           All Your Questions Answered
B5           The New Left Review #2
7"
Side 1: Who Will Rid Me Of These Turbulent Proles?  
Side 2: You Had To Go And Open Your Big Mouth
---
Share this Product
---
More from this collection