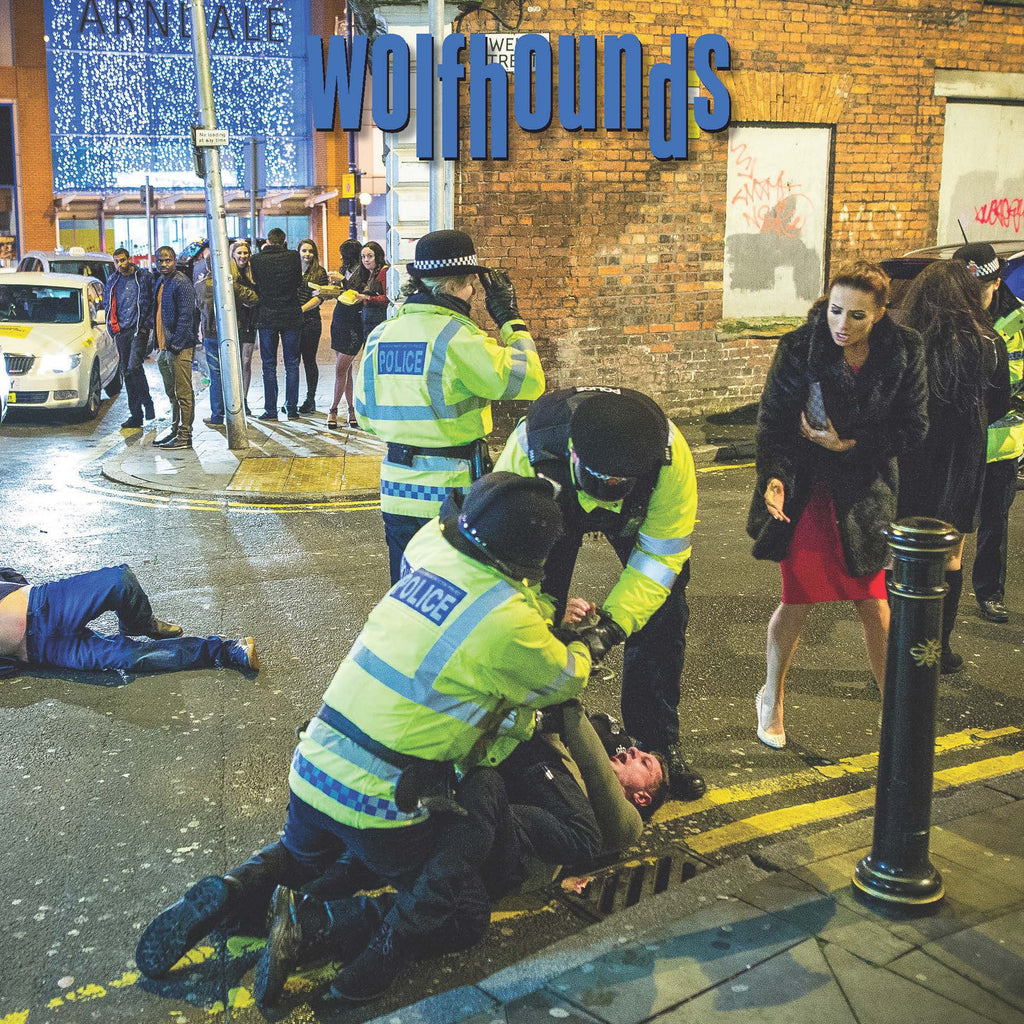 WOLFHOUNDS - UNTIED KINGDOM (or how to come to terms with your culture) CD
---
C86 legends return with their most vital and angriest record yet
After the recent limited edition double vinyl release, The Wolfhounds' modern underground classic has now got a CD issue
This consolidates a few years' intense activity which has included the singles compilation CD Middle Aged Freaks  in 2015 and the almost simultaneous reissue of their 1986 debut Unseen Ripples From A Pebble on CD and LP, along with international gigs and festival appearances. Untied Kingdom is the band's first standalone LP since 1990's Attitude.
Untied Kingdom or How to Come To Terms With Your Culture is The Wolfhounds' most far-reaching release yet. From the opening a capella iPhone-manipulated folk resurrection of 'Apparition' to the apocalyptic repetition of the electric violin and detuned guitar-driven 'Across The River of Death', and incorporating sample-mangled dub, freakbeat protest punk and late-night unplugged lo-fi along its 50-minute plus wayward journey, UK goes musically and lyrically everywhere other bands can't or won't go.
The album summons dystopic dysfunctional hallucinations of desperate working life and insecurity, while at the same time being as raw and hardcore celebratory as danceable blues. It's as modern as any young band could hope to be, but as wise and disturbed as any alert adult has to be. It conjours up demons of the fiercest rock'n'roll along with the unfettered experimentation of singer Callahan's previous band, Moonshake, plus massive riffs and neat pop hooks, to form an expansive whole with surprises around every spin of the turntable.
Originally formed as teenagers in 1984, the band appeared on the legendary and influential C86 cassette, and released four critically acclaimed LPs and many singles, while touring the UK and Continent extensively with the likes of My Bloody Valentine, Wedding Present and House of Love, before breaking up in 1990. The band reformed in 2006 at the request of St Etienne's Bob Stanley to celebrate 20 years since the release of C86, and inflicted a severe guitar noisefest on an unsuspecting indiepop crowd at London's ICA.
Since 2012, the band have played New York Popfest, Berlin Popfest, the Scared To Get Happybox-set and C86 reissue launch nights, further gigs in Paris, Madrid and Norway, as well as on several John Peel tribute bills and headlining their own club dates. In March 2016, comedian Stewart Lee invited them to play the last ever All Tomorrow's Parties in Wales, where they also went down a storm.
The last LP Middle Aged Freaks and reissued debut Unseen Ripples From A Pebble both received further critical plaudits and numerous plays on BBC 6Music, and even more for the initial release of Untied Kingdom. Each of their new singles received excited responses and are now sold out. 
Despite being past their 30th anniversary, Untied Kingdom now shows they can blow any act half their age offstage, while outclassing them creatively in every way. The Wolfhounds are back and better than ever.
Guests on Untied Kingdom include: Terry Edwards on saxophones and trumpets (Gallon Drunk/PJ Harvey); Rhodri Marsden on keyboards (Scritti Politti); Katherine Mountain Whitaker on harmonies (Evans the Death); Astrud Steehouder on harmonies (Paper Dollhouse); and Elin Grimstad on harmonies (Je Suis Animal).
Tracklisting
Apparition
Now I'm A Killer
My Legendary Childhood
Everyday Monsters
Thanks
The Stupid Poor
Lucky Heather
Oppositeland
Fire In The Home
The Comedians
Across The River Death
Praise for Untied Kingdom
'Fantastically caustic … always tougher and more canny than their peers' - Uncut.
'It makes for an incredibly thrilling journey' - Mojo.
'Since their reformation in 2005, they've continued to develop their sound without losing the fury that made their songs so memorable the first time round' Sounds XP (No3 in best reissues, no20 in best tracks of the year).
'Well worth your time and money' - Flipside.
'A cert for indie nights, guaranteed to prompt dervish dancing from drunken students' Record Collector. 
'Thank God for The Wolfhounds … that unique ability to inspire both musically and intellectually.' A Pessimist Is Never Disappointed blog
'Untied Kingdom (or how to come to terms with your culture) is as ambitious and expansive as the title suggests … this could, quite possibly, be their masterpiece .' Echoes & Dust
LINKS 
First single from Untied Kingdom: My Legendary Childhood https://www.youtube.com/watch?v=Z6CUQY_iS9M
Bandcamp: https://thewolfhounds.bandcamp.com
The Anti-Midas Touch (80s indie hit): https://www.youtube.com/watch?v=p0IgEjIuxkQ
Cheer Up (recent single - NSFW): https://www.youtube.com/watch?v=LZwuaQeACxA
Facebook: https://www.facebook.com/TheWolfhounds
Twitter: The Wolfhounds (@TheWolfhounds) | Twitter
---
Share this Product
---
More from this collection