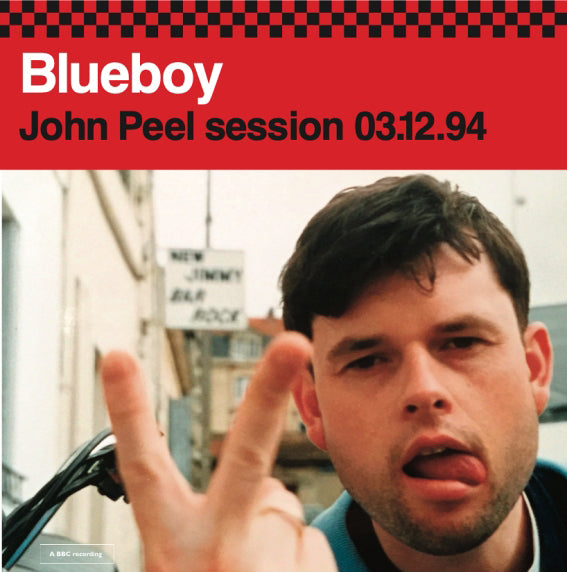 Blueboy - John Peel Session 03.12.94 Double Gatefold 7"
---
Released on the Precious Recordings of London label
Precious Recordings of London announces the label's fifth release, featuring Blueboy's sole BBC session for the John Peel show.
Blueboy
"Blueboy were Romantic poets looking on from their corner table while the barroom brawls of grunge and
Britpop pulled focus: champagne cocktails amid a wreck of spilled pints."
Michael White, author of Popkiss:The Life and Afterlife of Sarah Records
Stalwarts of the legendary Sarah Records label, Reading-based Blueboy were formed by core members the late Keith Girdler (vocals) and Paul Stewart (guitars) at the end of the 1980s from the ashes oftheir previous band Feverfew. Augmented by assorted others down the years – among them fellow Sarah mainstay Harvey Williams – the group released two much admired albums ('If Wishes Were Horses' and
'Unisex') plus a series of classic singles and EPs for the label. Initially renowned for their distinctive, refined, delicate pop, the group later developed a more obviously harder edge. Both sides of the Blueboy sound featured on the group's sole BBC session for the iconic John Peel show on Radio 1. Among
songs featured were the scathing 'Dirty Mags', the A-side of the final single ever issued on Sarah, and never-before-released 'Good News Week', which highlights Gemma Townley's beautiful cello. Blueboy later recorded a third LP ('The Bank of England') for Shinkansen, the label formed by Sarah founder Matt Haynes, while Girdler and Stewart also released records as Arabesque and Beaumont.
• The Blueboy session is released on gatefold 7-inch vinyl with a set of postcards (featuring some previously unseen images), sleeve notes from the artist and free download codes for the original BBC files. Paul's signed a load of the postcards for good measure!
Twitter: @officialblueboy
Visit the official Sarah Records website: sarahrecords.org.uk
Tracklist:
Toulouse

Good News Week

Dirty Mags

Loony Tunes

---
Share this Product
---
More from this collection