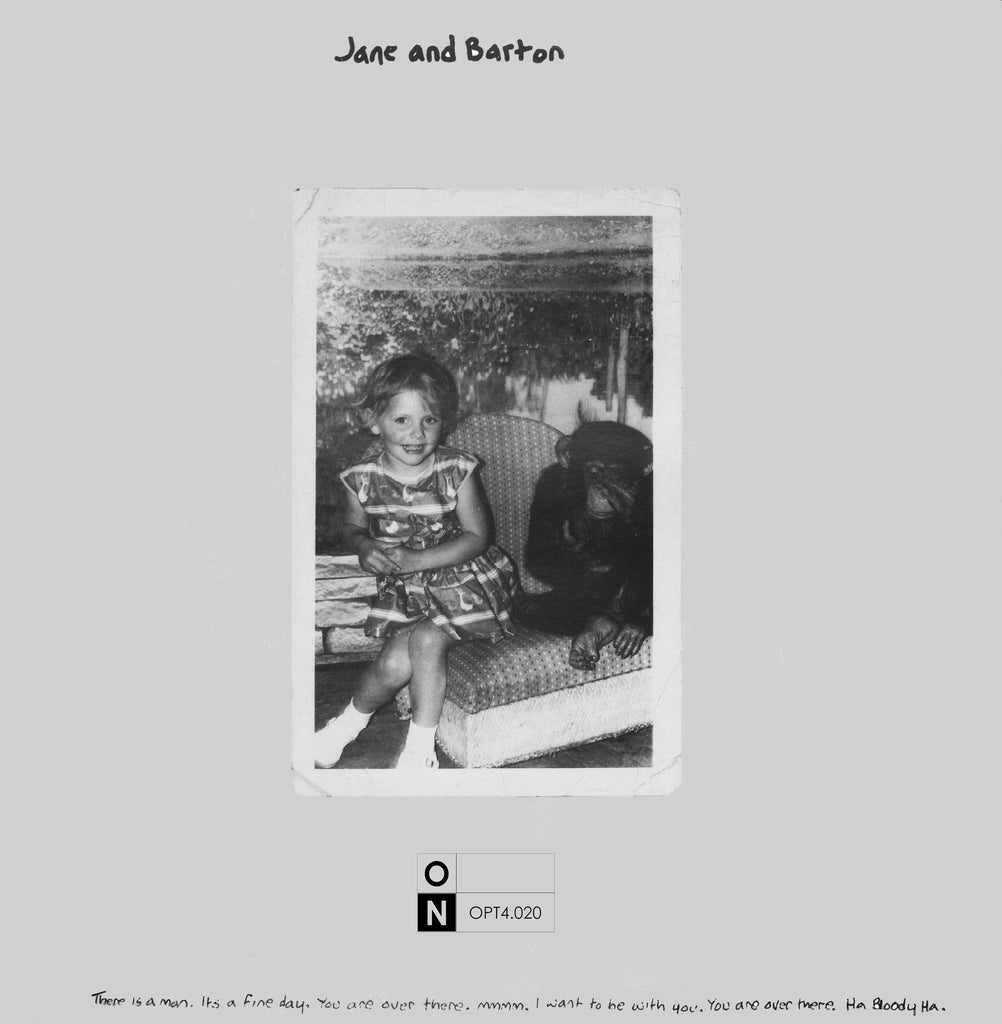 JANE AND BARTON - JANE AND BARTON 10"MLP+CD
---
10" LP pressed on white vinyl with CD of complete album containing 2 non LP bonus tracks, comes with 8 page colour booklet. Includes the singles "It's A Fine Day" and "I Want To Be With You"


Originally released in 1983 this album is probably best known for the inclusion of the track "It's A Fine Day" A poem written by Edward Barton that was originally sung unaccompanied by, and credited to, Jane - that is, Jane Lancaster. Recorded and released independently, it was played by,amongst others, radio 1 DJ John Peel.  and heard by Iain McNay of Cherry Red Records, who released it in 1983. Reaching number 4 on the UK Indie Chart, becoming the highest ever chart placing of an unaccompanied poem in U.K. history. later appearing credited to Jane and Barton, on this, their eponymous mini-album. It has been covered and sampled many times since. Becoming major Worldwide dance hits for both OPUS 3 and Miss Jane(ATB) (No relation)

The album itself is almost impossible to categorize. Written by Edward Barton all tracks (bar one) feature Jane's hauntingly beautiful voice singing accapella or with minimal accompaniment Musicians incude Martin Moscrop and Andrew Connell of A Certain Ratio.
17 things you need to know about Edward Barton
 1. Edward invented and patented a knitted woollen radiator cover that is designed to stop radiators looking cold.

2. Edward wrote "It's a Fine Day" (which long before it charted at number 4 for Opus 3 and subsequently hatched a hundred versions) was an indie hit in 1983 Incidentally it still holds the record for the highest ever chart placing of an unaccompanied poem.
The last line "we will have salad" is the only unsampled line left.

3. Edward once kicked Bono.May 1980.

4. Edward was rescued from a police cell by Tony Wilson.

5. Edward co-wrote Kylie Minogues "Confide in Me".

6. Edward has a room containing over 300 teddy bears: non of them worth anything, other than love. They were rescued from kerbs, skips and back alleys in the 1980's when it seems the whole of Manchester chucked out it's childhood.
He also has a large collection of childrens shoes, babies dummies and over a thousand mugs which he re-arranges instead of being a Buddhist.

7. Edward appeared twice on "The Tube". If you say the words "I've Got No Chickens but I've Got Five Wooden Chairs" to a boy over 40 there is a strong chance of a big smile.
Despite the lack of swearing or sexy stuff his performances attracted more complaints from the public than any other act.
He refused to appear a third time after being asked to emerge from a cake with Samantha Fox.

8. The "Observer" listed his "A Little Christmas Eve Thieving" in its "Best Christmas Records of All Time".

9. "Edward Not Edward" was a tribute album of Edward's songs released in 1989 . It featured A Guy Called Gerald, 808 State, The Ruthless Rap Assassins, The Inspiral Carpets, Stump, Ted Chippington.

10.Edward was arrested for displaying his installation "Stolen", a large cage containing household objects shop-lifted from various supermarkets.
As a result he is probably the only person to appear ( topless or otherwise) on page 3 of "The Sun", and "The Star" and page 5 of "The Mirror".The Sun described him amusingly as 'Manchesters very own Leonardo Da Pinchi.'
Sadly his "Oblong Art Gallery" on the top floor of "Afflecks Palace" in Manchester was, also at the police's request, shut down.

11.In the 90's Edward was the unofficial "trance laureate" he wrote 6 top 30 tracks and many dance chart hits with among others Norman Cook as "Pizza Man", Paul Oakenfold, ATB, LOST WITNESS, Justin Robertson, Way Out West and Orbital.

12.Edward played guitar on "Sowing the Seeds of Love" for Tears for Fears on the Wogan Show. It's on you -Tube

13.. Probably because he was cheap, polite and didn't mind sleeping the night in the back of a van parked on a hill, Edward was the tour support for many bands in the 80's.He particularly enjoyed the company of Stump, Microdisney and James. Less fun were the The Proclaimers who refused to share a dressing room

14.Edward was strangely prominent during Manchester's early rave years. He wrote "Born in the North" by a Guy Called Gerald which was one of the Hacienda's biggest floor undulators.

15 Edward suffers from a rare disease called Mitochondrial Myopathy and won't be getting in any more silly scraps(although maybe a few more scrapes)and won't be around quite as long as he'd been keen on.-so best enjoy him now eh?

16 Edward once wrote a song wih a neighbour of his-Nico from 'The Velvet Underground'

17.Edward's last offering was "Bad Leg" ,a book of his poetry of which some quite famous people have said some quite nice things.
Vinyl Tracklist

A1 There Is A Man
A2 It's A Fine Day
A3 You Are Over There Part 1

B1 Mmmm
B2 I Want To Be With You
B3 You Are Over There Part 2
B4 Ha Bloody Ha

CD Tracklist

There Is A Man
It's A Fine Day
You Are Over There
Mmmm
Of All
I Want To Be With You
You Are Over There
Ha Bloody Ha
Leaves were Falling
---
Share this Product
---
More from this collection