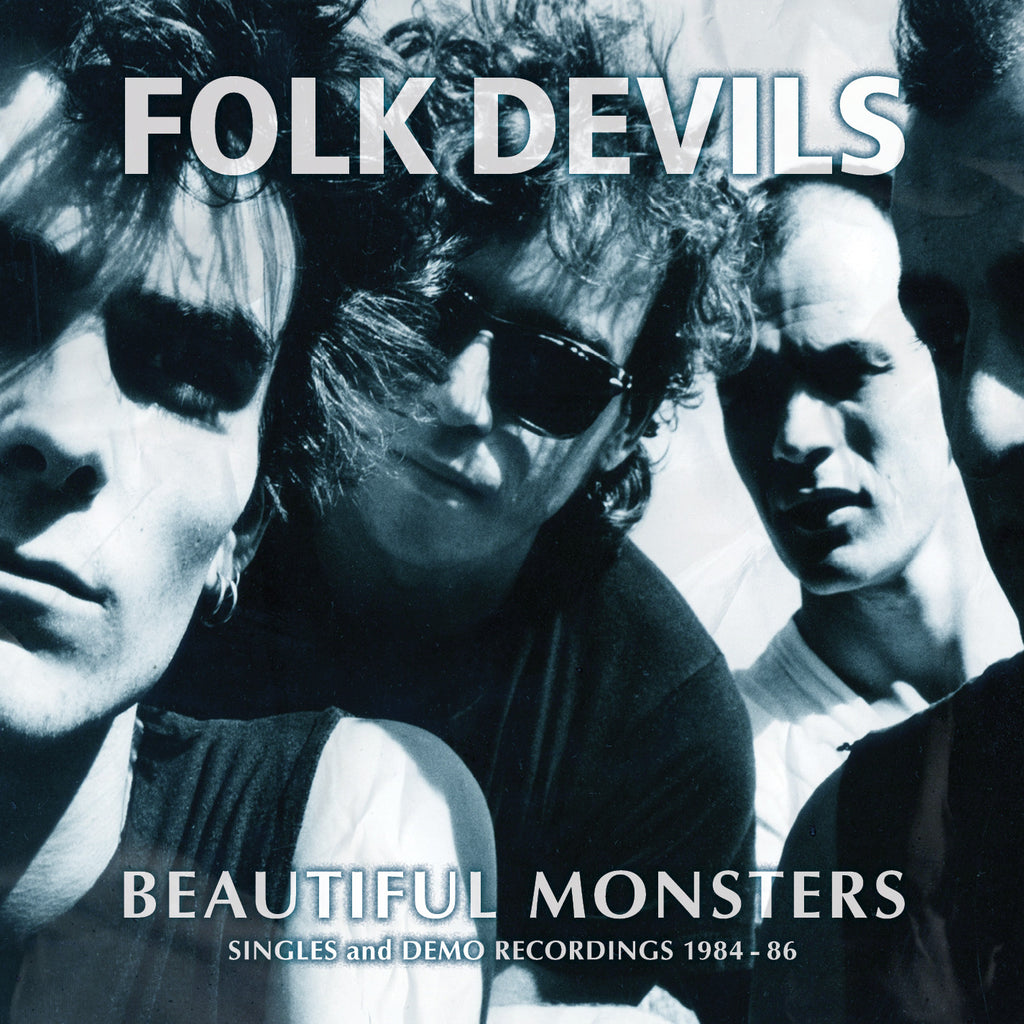 FOLK DEVILS - BEAUTIFUL MONSTERS (SINGLES and DEMO RECORDINGS 1984-86) 2LP
---
Limited edition 180 gram double vinyl. Digitally restored audio remastered for vinyl includes 4 page insert with exclusive lyric sheet.


Named after Stanley Cohen's book on youth subcultures "Folk Devils and Moral Panics", this highly underrated British band was as far as one could get from 'folk music' at the time. They were formed by Co. Durham native Ian Lowery (formerly of The Wall and Ski Patrol) in late 1983 with a line up that consisted of Whiteley (Bass), Kris Jozajtis (Guitar) and Alan Cole (Drums). Throughout their short lifespan, the band released several acclaimed independent singles including "Hank Turns Blue", "Beautiful Monster", 1985's intense "Fire And Chrome" EP, and recorded three sessions for BBC Radio's John Peel Show.

By early 1984, their heady brew of swampy rock on a bed of bastardized blues had created a vehicle for Lowery's increasingly misanthropic worldview. A well-honed gutter poet since the early days of punk, Ian developed an idiosyncratic style, fusing a natural gift for sly wordplay and a well-turned snarky phrase with his often vitriolic and poignant lyrics channeled through an explosive onstage persona. By 1985, their sound was becoming sharp, ominous, brooding and urgent, and had taken shape with the help of producer Richard Mazda, with whom they collaborated several times. The band moved label and management duties to Nick Jones' KARBON operation, gigging constantly, most memorably sharing bills with the likes of The Fall, Nick Cave and the Bad Seeds, The Gun Club and Spacemen 3. They also toured extensively throughout Europe and were featured prominently in the UK music press. Sadly, by early 1986 frustration within their ranks had created a point of no return, and the band imploded.

These newly digitally re-mastered recordings have been painstakingly restored from the original master tapes, which had spent 30 years languishing in Nick Jones' archives. Never before released on CD, the re-mastered sound captures the ragged fury and adrenalized energy that uniquely characterized the Folk Devils oeuvre. Also included here are eight demo recordings that feature some of their best unreleased material, both musically and lyrically.

Listening again to the ferocious sonic snarl of Whiteley's Rickenbacker, Kris Joz's rhythmic wall of sound and sparse, blues-inflected guitar figures, Al's crisp, metronomic drumming, and Ian's artful, grimy tales of love, loss, loathing and libation, one can't help but think it was becoming a sound unto itself, an insatiable and yes, beautiful, monster. We hope you enjoy these resurrected gems, and in doing so, join us in honouring the band's legacy and paying tribute to the twisted genius of Ian Lowery, who died in 2001, age 45.
Tracklist:
01. Hank Turns Blue
02. Chewing The Flesh
03. Beautiful Monster
04. Art Ghetto
05. Brian Jones' Bastard Son
06. Nice People
07. English Disease
08. Where The Buffalo Roam
09. Wail
10. Evil Eye
11. Illiterati
12. Tight Sleep
13. Broken Head
14. Albino
15. Nicotine Tan
16. It Drags On
17. Belly Up
18. Happy Face
---
Share this Product
---
More from this collection