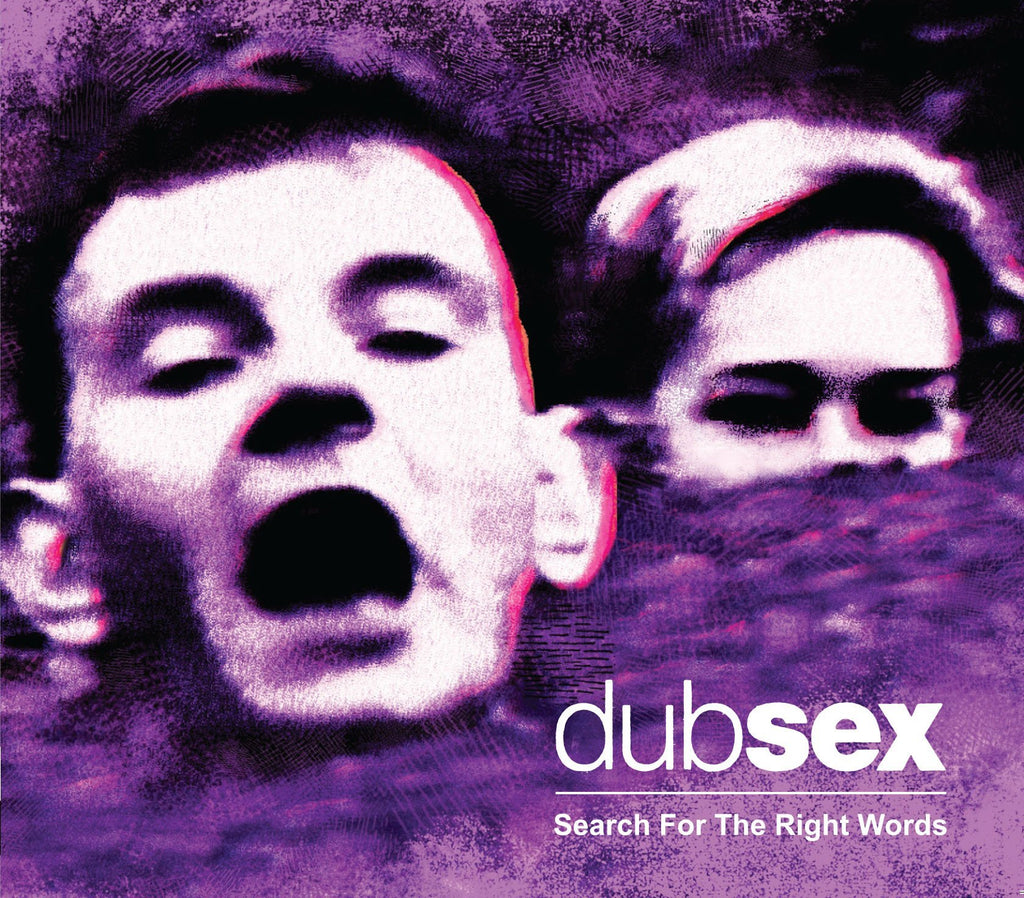 DUB SEX - SEARCH FOR THE RIGHT WORDS CD
---
Dub Sex release 'Search For The Right Words'
A complete compilation of their studio works brought together for the first time.
CD with 24 page booklet in digipack cover
Keep up to date with all things DUB SEX here
Originally released on  -6a series of EPs and mini-albums between 1987-89, most of these recordings are long-deleted and several have never previously been made available in a digital format. The package also includes unreleased John Peel session tracks and an Edward Barton cover recorded for a compilation tribute album.

"Dub Sex's music is a stark but galvanising post-punk surge – reverberant drums and cheese-wire guitar plus a what-it-says-on-the-tin dub-edge to the bass. But it's Hoyle's voice that dominates the recordings – a hugely expressive thing without obvious parallel" - Roy Wilkinson, Mojo 'Buried Treasures' 2014
The band reformed in 2014 playing a handful of festival dates and low-key headline shows in Manchester and London. With core members Mark Hoyle (vocals/guitar), Cathy Brooks (bass) and former guitarist Chris Bridgett (guitar), Dub Sex will be playing more dates in 2019.
Dub Sex are often cited as one of Manchester's greatest 'lost' bands. Formed in the concrete landscape of 1980s Hulme, their music is appropriately raw and intense, bass-led with wiry guitar patterns swirling around the impassioned vocal style and presence of frontman Mark Hoyle.
They came to prominence over the release of five critically acclaimed EPs and mini-albums in the late 80s. John Peel picked up on them from the outset playing a demo recording of 'Tripwire!' later describing the band on-air as "one of my very favourites". Dub Sex went on to record 4 sessions for his BBC Radio show, the first of which incredibly aired 3 times in just 6 weeks during Feb/Mar 1987.
'Tripwire!' saw a formal release later in 1987 on the band's debut EP. The mini-album 'Push' and 'The Underneath' EP soon followed. Enthusiastic music press reviews raised the band's profile amongst the post-punk fraternity and incendiary live shows led to several TV appearances including BBC's influential 'Snub TV' and Tony Wilson's Granada show 'The Other Side of Midnight'.
By early 1989, Dub Sex were at their peak and released what many consider to be their finest work - the 'Swerve' EP - the title track from which made John Peel's 'Festive Fifty' at the end of that year.
But when seemingly on the cusp of greater things, the cultural landscape of their home town changed overnight. Hindsight shows 'Madchester' left Dub Sex side-lined. They didn't sit comfortably with this new dawn and it was unfortunate their final and perhaps most commercial release 'Time Of Life' got lost in the euphoria surrounding the new phenomenon. A disappointment which indirectly led to the band's demise in 1990.
At the core of Dub Sex were Mark Hoyle (vocals/guitar), Cathy Brooks (bass) and Roger Cadman (drums). They were joined on guitar most notably by founding member Dave Rumney and later Chris Bridgett. Their sound was moulded on all releases by their studio linchpin Chris Nagle (Martin Hannett's right-hand man and Joy Division engineer).
Mark, Cathy and Chris reformed Dub Sex in 2014 playing a series of successful festival and headline shows – more to follow in 2019 in support of the 'Search For The Right Words' release
Tracklisting

1 Then And Now
2 Tripwire!
3 The Underneath
4 Swerve
5 Push!
6 Caved In
7 North By North-East (John Peel Session)
8 Instead Of Flowers
9 Kicking The Corpse Around
10 Man On The Inside
11 Splintered
12 I Am Not Afraid
13 Green
14 Time Of Life
15 Kumina
16 Kristallnacht
17 The Big Freeze
18 Play Street
19 Every Secret (That I Ever Made)
20 Snapper (John Peel Session)
21 Voice Of Reason
22 Believe
23 Barber Barber
---
Share this Product
---
More from this collection