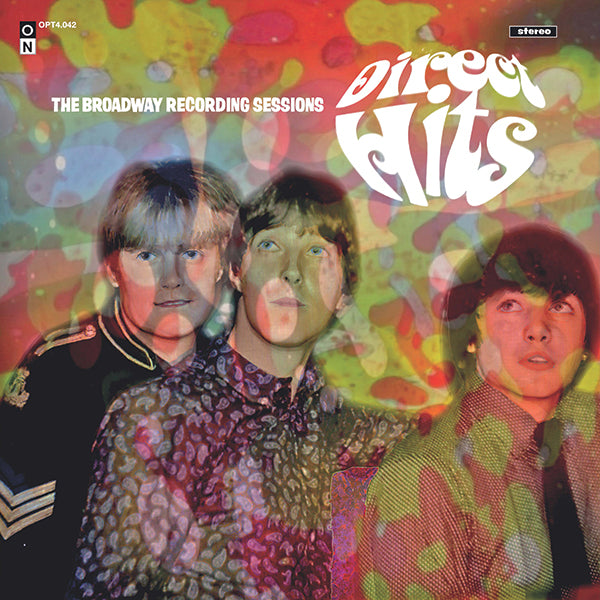 DIRECT HITS - THE BROADWAY RECORDING SESSIONS LP
---
DIRECT HITS

THE BROADWAY RECORDING SESSIONS

The original 1982 Pre- Blow Up recordings. Restored and Remastered from the original 1/
4" Tape. Deluxe gatefold sleeve, Fab colour inner bag, with printed lyrics, Big fold out poster, Art prints of each band member. Blue vinyl (500 copies) or Black Vinyl (100 copies)
THE BROADWAY RECORDING SESSIONS A PIECE OF MOD HISTORY 



Way back in 1982, Battersea based mod heroes The Direct Hits had released one single on Dan Treacy's Whamm! record label, 'Modesty Blaise' earlier in the year.
This was singled out in the music press as not just one of your average Jam crash / bang /wallop mod revivalist tunes.
Live gigs showed they had a mighty powerful set of catchy mod / pop tunes in the back pocket. Whamm! were struggling to provide the funds to record an album, the songs were too good not to commit to a full 12' set, so the Direct Hits pooled their limited resources and self financed a very cheap one day recording session in a tiny studio in Tooting, South London called Broadway Sound. Early on the morning of August 12th 1982 the band, comprising of Colin Swan, Geno Buckmaster, Brian Grover and their trusty roadie 'Robbo' assembled at the tiny studio to begin recording as many of their songs as they could get down on tape for the tiny budget they had scraped together. As most of the songs were already well rehearsed thanks to the band's busy live schedule, the recording of the first nine songs on this disc were finished by mid afternoon without any problems. Throughout the late afternoon and early evening the band toiled over scant overdubs with limited keyboard facilities and a distinct lack of musical ability. The recordings immediately came to life however, when Colin Swan and Geno Buckmaster's stage-honed tight harmonies were added, there was no time for vocal overdubs, and the mixing was completed by midnight. Tired and worn out, the band ventured out into the cold night air happy with the days work, clutching the precious reel to reel tape. Two weeks later the band came back with a friend producing, and recorded the three final tracks featured on this album which have a more rounded slightly less raw sound. All three were completed in an afternoon. Almost two years later they re-recorded some of these songs, and along with a handful of new songs from the pen of Buckmaster and Swan, recorded their 'Blow Up' debut album at Rendezvous Studios in Sydenham, South East London, released on Whaam! Records in August 1984. So what you have here are the roots of some of these great songs. A few didn't make it to the first album those that did, as you will hear, stayed reasonably faithful to the original arrangements.

The Broadway Recording Sessions take you right back to where it all started!

Tracklist:
 SIDE ONE
1 Ride My Bicycle
2 I Start Counting
3 Too Shy
4 Leander, By The River
5 Miranda Berkley
6 This Was Marc Deans

SIDE TWO
1 Naughty Little Boy
2 What Killed Aleister Crowley
3 I'd Rather Stay Than Go
4 Sunny Honey Girl
5 I Feel The Earth Move
6 Start LIving

---
Share this Product
---
More from this collection