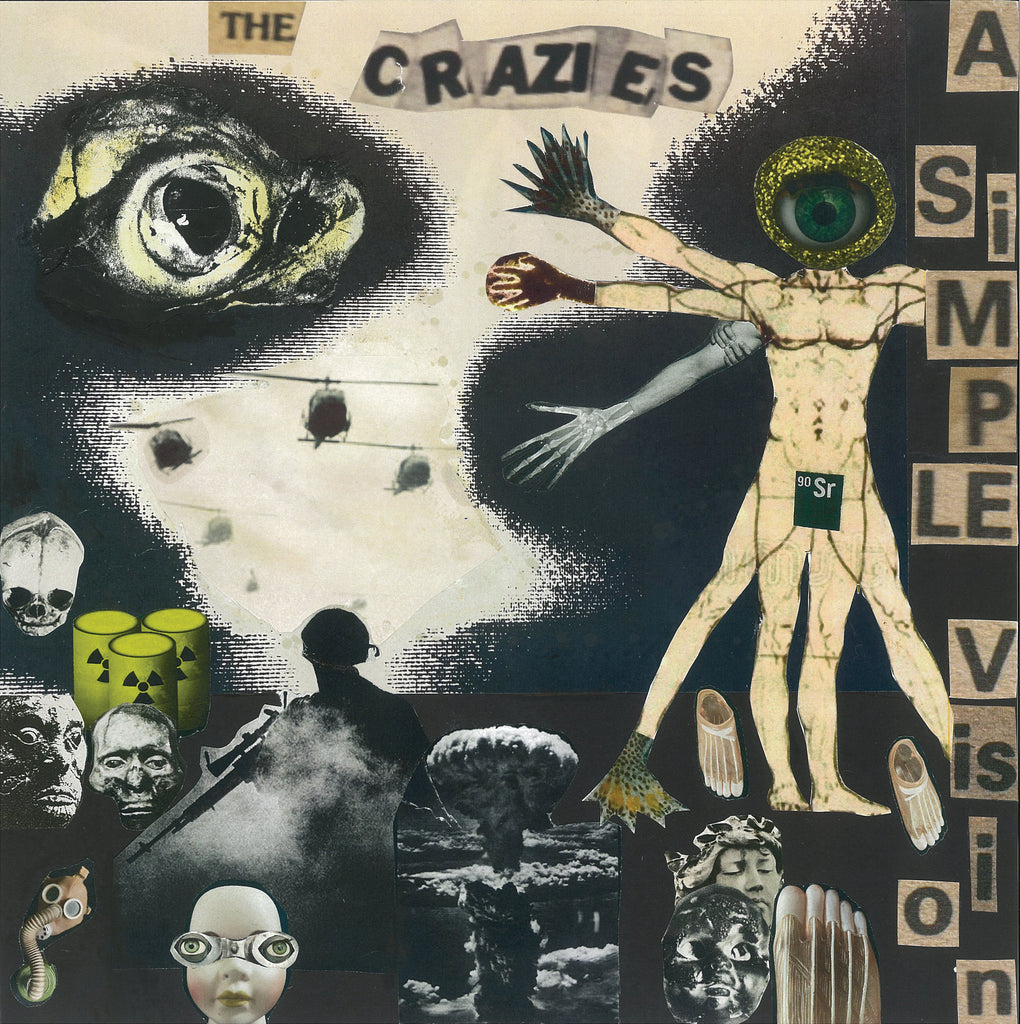 CRAZIES, THE - A SIMPLE VISION LP
---
THE CRAZIES - A SIMPLE VISION LP


The legendary session from members of The Outsiders, The Sound and 
Honolulu Mountain Daffodils.

 released for the very first time 
Overseen by Adrian Janes and remastered by Nick Robbins with sleeve design and artwork by Bi Marshall
PRESSED ON GOLD COLOUR VINYL
In December 1978 Pete Williams, later to achieve cult infamy as Lord Sulaco of the Honolulu Mountain Daffodils, decided to realise a notion which he'd long kicked around with some of his musician friends.  This was to record some original songs for which he - who had never been in a studio in his life – would provide the lyrics and sing.  These friends were the Outsiders, at that time consisting of Adrian Borland (guitar, vocals), Graham Bailey (bass) and Adrian Janes (drums), plus an increasingly regular guest player in Bi Marshall (clarinet).  (A year later, Janes having left, the Outsiders became the Sound.)
With no prior preparation other than Williams writing a set of lyrics (reputedly all based on newspaper stories), he then hired Elephant Studio in London for a day's session.  This was engineered by Nick Robbins, later to produce the Sound among others, but at that point at the very start of his career.  This was no bad thing, since he was as open to the bizarre working methods of the Crazies (named after the George Romero sci-fi horror film) as they were innocent of their strangeness:  improvise a song during one run-through, record it, and then move on to the next one, each to be created in the same way.
This extremely efficient method left enough studio time after recording six songs for the rest to head off for something to eat, while Williams scribbled lyrics for a final composition, 'When We're Dead', which was recorded upon their return.
The surviving members (Bailey, Marshall and Janes) all recall this as one of the most enjoyable and relaxed sessions they were ever part of.  The same experimental freedom and warped humour can also be heard in the albums Williams and Borland made as the Honolulu Mountain Daffodils a decade later.
 Cassette copies of the resulting album were produced for all concerned, and it seems that there was an idea of making it more widely available in this format, but this was never to occur.  It is only now that, with the original tape rediscovered, that the Crazies' 'A Simple Vision', mastered by Nick Robbins, can at last be perceived by the wider world.
TRACKLIST:
Side 1
Scortch Torch                             
Human Pie                                
Strontium                                     
Flipper     
Side 2                              
Body Bag                               
The Shakes        
When We're Dead   
---
Share this Product
---
More from this collection