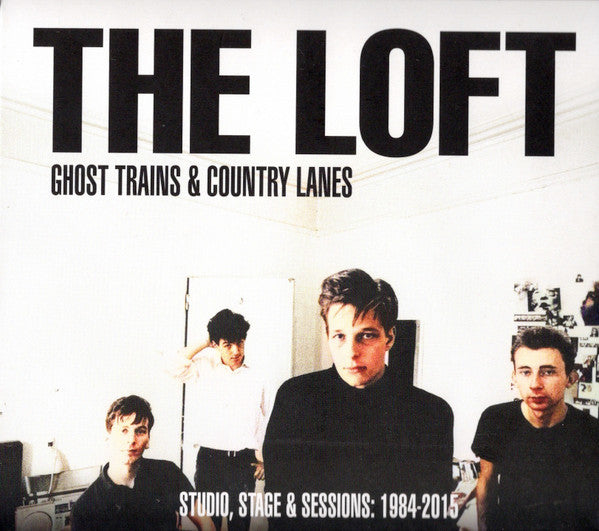 LOFT, THE - GHOST TRAINS AND COUNTRY LANES 3LP
---
THE LOFT

GHOST TRAINS AND COUNTRY LANES 3LP


Triple Coloured vinyl version (Each disc is a different colour) of the double CD that came out on Cherry Red last year. Presented in double gatefold sleeve with 16 page 12x12 colour booklet
Among the first crop of Creation Records bands in the mid-1980s, THE LOFT seemed the most likely to break through. Following the success of The Smiths, guitar-based independent pop was in vogue, Alan McGee's Creation label was turning heads – its bands blending 60s psychedelia, the melodic end of punk and a new sound which would soon be immortalised on NME's C86 cassette. And in this London quartet, Creation had their answer to bands like Television, The Only Ones or early Modern Lovers, offering taut, off-kilter songs with an irresistibly deadpan cool.
Sadly, after just two singles, 1984's downbeat debut 'Why Does The Rain' and the punchier sequel, 'Up The Hill And Down The Slope' – an indie hit which the band performed live on TV show The Oxford Road Show, The Loft dissolved, with various members founding new bands The Weather Prophets, The Caretaker Race and The Wishing Stones. They left behind seven studio tracks, a BBC Radio 1 session for Janice Long and one track from a Creation LP documenting the scene's roots in small club The Living Room.
However, The Loft's legend endured, eventually prompting a reunion in the early 2000s with all four original members – singer/songwriter/guitarist Pete Astor, guitarist Andy Strickland, bassist Bill Prince and drummer Dave Morgan. Alongside various well-received live shows, that led to a new single, 'Model Village' (2006) and more recently a session for Gideon Coe on BBC 6 Music (2015). The Loft's reputation as founding fathers of a new breed of mid-80s indie pop continues to grow to this day, with the band often cited as an influence.
Compiled and coordinated by the band, Ghost Trains & Country Lanes expands on previous retrospectives of The Loft, adding those reunion recordings (including three previously unissued tracks), the Gideon Coe session and several live recordings from that historic performance at The Living Room back in 1984. (including many exclusive songs which were never recorded in the studio).
With new sleeve-notes by Danny Kelly, this is the definite tribute to The Loft
Tracklist

The Creation Recordings
Why Does The Rain
Like
Winter
Up The Hill And Down The Slope
Your Door Shines Like Gold
Lonely Street
Time
BBC Radio 1 Janice Long Session - 9/12/84
On A Tuesday
Skeleton Staircase
The Canal And The Big Red Town
Lonely Street

Live At The Living Room - 8/6/84
On A Tuesday
Your Door Shines Like Gold
Time
Colours I See
Emily
The Nothing Box
The Canal And The Big Red Town
Why Does The Rain
Over The Hill And Down The Slope
Day's End

Bark Studio Recordings - 5-7 /12/05
Model Village
Rickety Frame
Beware
Mad Old Woman Mad Old Man
Ride

BBC Radio 6 Music Gideon Coe Session - 24/9/15
Why Does The Rain
I Can't Keep My Mind Off You
Up The Hill And Down The Slope
Your Door Shines Like Gold
---
Share this Product
---
More from this collection