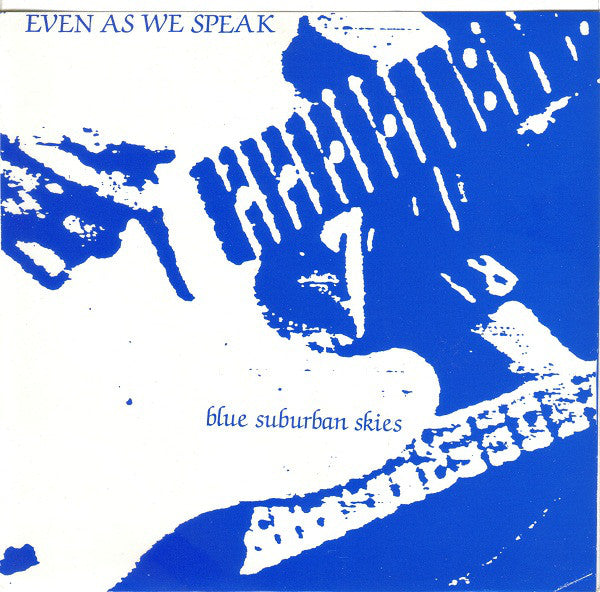 EVEN AS WE SPEAK - BLUE SUBURBAN SKIES 7"
---
2 track 7" Limited to 800 copies on Coloured Vinyl

Includes postcard and poster
Part of the Optic Sevens 2.0 Reissue Series
Tracklist;
Blue Suburban Skies
Bizarre Love Triangle
Originally released in 1987 on Australian label Big Home Productions both tracks were later re-released in 1990 on Sarah Records together with the Goes so Slow single as a five track 7 inch EP titled Nothing Ever Happens.
This is the first time that the single has been released in the UK in it's original format.
Even As We Speak is an indie band from Sydney, Australia. Formed in the mid 1980s, founding members Matthew Love (guitar, banjo, vocals) and Mary Wyer (vocals, guitar) were later joined by Rob Irwin (bass) Anita Rayner (drums, banjo, mandolin),  Julian Knowles (guitar, keyboards, production), and Paul Clarke (guitar, vocals). After a series of vinyl releases on Australian independent labels including Phantom Records, and success on the Australian indie scene, they came to the attention of BBC Radio 1 DJ John Peel who started to play the band's 'Goes So Slow' Phantom Records release on his show. This brought them to the attention of UK audiences and began a relationship with UK indie label Sarah Records. The band released several singles and an album on Sarah Records, three of which reached the Top 5 of the Melody Maker and New Musical Express UK independent music charts in 1992 and 1993.
---
Share this Product
---
More from this collection