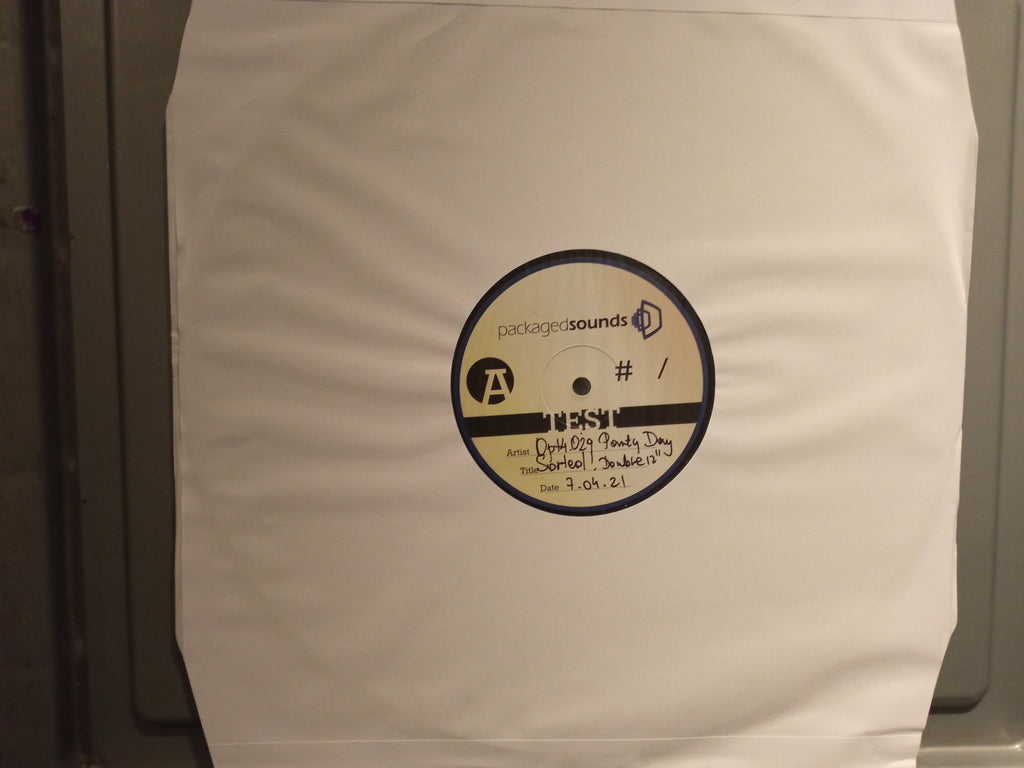 PARTY DAY - SORTED! 2LP Test Pressing
---
PARTY DAY - SORTED!  
Test Pressing
Reissued for the first time.
Remastered from the original master tapes
Double vinyl that includes their critically acclaimed and highly sought after debut album 'Glasshouse' from 1985 and the 1986 follow up 'Simplicity'.
___________________________________________
Formed in 1981. Party Day, with their bass led rhythms and sharp powerful drums gigged extensively and released their debut single 'Row The Boat Ashore' in 1983.

Their brand of Post-Punk Indie Rock with Gothic overtones soon got the attention of DJ John Peel and sold out almost immediately.
The follow up single 'Spider' from 1984 again received extensive airplay from John Peel and received  rave reviews from the national music press. "
Mouthy pellets of malevolence" NME "Excellent punk junk howl" Sounds.
Their self released debut album 'Glasshouse' was released in 1985 to glowing reviews and has gained popularity over the years. Now very collectable, it exchanges hands for big money on the second hand market.
The Glasshouse EP followed later in 85 heralding a more commercial approach and widening appeal.
Their second album 'Simplicity' was released in 1986 
"Proving that they've grasped more than an inspirational nettle, the recurrent throb finds their trousers igniting during the quite punctilious rawk of the title track, the urgent prodding of 'Career', which reminded me uncomfortably of early Killing Joke and the attractive, though slightly over-wrought black sheep, 'Glorious Days', which could have brought a lump to Mario Lanza's trousers."
                                                                                  Mick Mercer  Melody Maker
Tracklist

SIDE ONE
1 Rabbit Pie
2 Firehorse
3 Carousel
4 Athena

SIDE TWO
1 Boredom
2 Grace
3 Row The Boat Ashore
4 Atoms

SIDE THREE
1 Sovereign
2 She May Be Blind
3 Stay In My Heart
4 Laughter
5 Simplicity

SIDE FOUR
1 The Other Side
2 Precious One
3 Career
4 A Passing Pain
5 Glorious Days
___________________________________________
Party Day – Biography
Formed 1981, they took their name from a song they'd recorded at a studio in Barnsley, South Yorkshire.
Band consisted of; Martin Steele (gtr / vocals), Carl Firth (bass/vocals) Mick Baker (drums), Greg Firth (gtr) [who left in 1982].
The group became known for their bass led rhythms and sharp powerful drums. The vocal honours were shared between Martin and Carl. Onstage the band was at their best, with their Indie Rock with Gothic overtones helping to establish them within both the local gig circuits of Leeds and Sheffield.
1983, released their first 7" single 'Row the Boat Ashore / Poison' (Party Day Records). This reached the attention of John Peel and local indie radio shows. Zigzag described it as 'Their simpering and delightful sound is a thing of beauty'.
1984, and 'The Spider/ Flies' single (Party Day Records) brought them more attention, and a session/interview for a London Pirate Station, Radio Shoestring. Sounds reviewed as 'Excellent punk junk howl'.
1985, released 'Glasshouse' LP(Party Day Records) to favourable reviews, Sounds with "More soon, please".
Martin left due to ill-health, and was replaced by Dean Peckett.
1985, released 'Glasshouse' EP (Rouska Records). Sounds responded with "Gargantuan".
1986, released 'Simplicity' LP (Party Day Records) had Mick Mercer enthusing "brought a lump to Mario Lanza's trousers".
Compilations: Party Day appeared on numerous collections throughout their period and beyond! The most notables being;
1984, Four Your Ears Only (Play It Again Sam Records), PIAS's second ever release.
And posthumously,
2006, Strobelights Volume 3 (Strobelight Records)
2008, Return of the Batcave – Vol.1 (online)
1987, the band made further changes as Carl left and, Paul Nash (of The Danse Society) (gtr / vocals), and Shaun Crowcroft  (bass) joined. They recorded two sessions, but these songs were later abandoned and not released.  Shortly afterwards the band folded.
Sadly Dean Peckett died in 2016, as the band began putting the collection 'Sorted!' together.
The 2006 release was in response to the resurgence of interest in Party Day through their song 'Atoms', which continued to be played at clubs throughout the Europe (and later, everywhere). Since then, there has been further interest in their songs, with more airplay and livestream shows.
Forty Years on from their beginning…
2021 release of 'Sorted!' (Optic Nerve Recordings). A collection of their vinyl releases plus demos.
www.party-day.co.uk
https://en.wikipedia.org/wiki/Party_Day
---
Share this Product
---
More from this collection