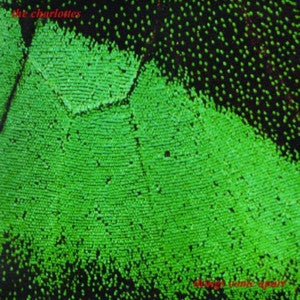 CHARLOTTES, THE - THINGS COME APART LP
---
Limited to 500 numbered GREEN coloured vinyl copies and presented in a gatefold sleeve
Includes 2 bonus tracks
2nd album from this long forgotten, vastly under-rated band from the late 80's/early 90's that features Simon Scott on drums, who went on to join Slowdive

Positioning themselves squarely in the shoegazing scene of the time they were however a much noisier proposition but still managed to retain a very catchy edge to their music.

Pioneering in their use of walls of guitar sound, The Charlottes were one of the first shoegaze bands beaten to the punch only by My Bloody Valentine and quite possibly Lush. Leading the way for the likes of Ride and Chapterhouse.

Despite their independent chart success they fell very much into the category of 'ones who got away', the band splitting just as the single Liar (Included on this album) was gaining extensive college radio play in the USA.

The whole album is drenched in walls of guitars Still great 20 years after its release and essential for lovers of My Bloody Valentine, Slowdive, and Ride

Unavailable on vinyl for many years, this reissue includes 2 bonus tracks blue & venus.

Tracklisting
LIAR
PRAYER SONG
SEE ME FEEL
BY MY SIDE
MAD GIRL'S LOVE SONG
BEAUTIFY
LOVE IN THE EMPTINESS
WE'RE GOING WRONG
BLUE
VENUS
---
Share this Product
---
More from this collection