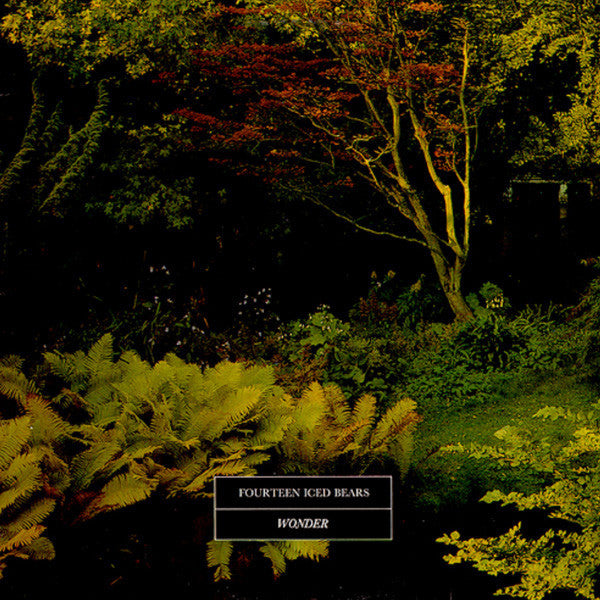 14 ICED BEARS - WONDER 2LP
---
Limited edition double album pressed on colour vinyl. Gatefold sleeve, printed lyric inners. 
Includes 9 track bonus disc that contains tracks from the "World I Love EP" , "Mother Sleep EP" and "Hold On EP"
14 Iced Bears second album "Wonder" was Originally released in 1991, by now they were listening more to The West Coast Pop Art Experimental Band, Big Star and the 13th Floor Elevators and they had strayed even further from their early indie-pop origins towards spaced out soundscapes, their sound had become notably more psychedelic, with the band drawing deeper on their 60s influences, while still retaining the feel for melody present in their previous work.
The subsequent EP "Hold On/"Summer Nights"/"In The Morning" was to be the band's last release but they went on to support Sterling Morrison and Mo Tucker from the Velvet Underground and Big Star's Alex Chilton on his 1992 solo tour.
14 Iced Bears called it a day at the end of 1992 after Robert Sekula moved back to London, Thereafter their cult status grew, fuelled by CD retrospectives from Overground, Slumberland and Cherry Red. Culminating in 2010 when the band reformed and toured the US.
LP 1
HOLD ON
HEAVEN STAR
SMOOTH IN THE SUN
THESE ARE THE THINGS
WHEN IT COMES
RARE (LIKE YOU ARE)
LOVE ON A SUGAR MOUNTAIN
EYES
RED NOW
LP2
COMING DOWN
MOTHER SLEEP
SUMMER NIGHTS
IN THE MORNING
FALLING BACKWARDS
WORLD I LOVE
RISE
BEAUTIFUL CHILD
THE WONDER OF COINCIDENCE 1
---
Share this Product
---
More from this collection